… or The Ballad of Joe Blow & Joe CEO
Joe CEO made lots of bad bets.
Joe CEO ended up with bad debt.
Joe CEO says government is bad.
But Joe CEO doesn't follow his own fad.
Hungry & Poor? Get out of line!
Joe CEO is running out of time.
You see, Joe CEO is TOO BIG TO FAIL !
As for Joe Blow… that's another tale.
Joe CEO is now in the sunny Caribbean.
Sipping piña colada and watching the scene.
But Joe Blows of the world have a role to fill;
We are the ones stuck with the bill!
Copyright © 2008 by Kofi Garbrah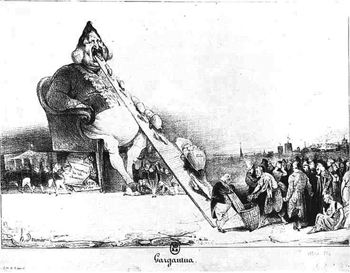 Honore Daumier says it best… Tax-dollars go in, favours to friends of the king come out!